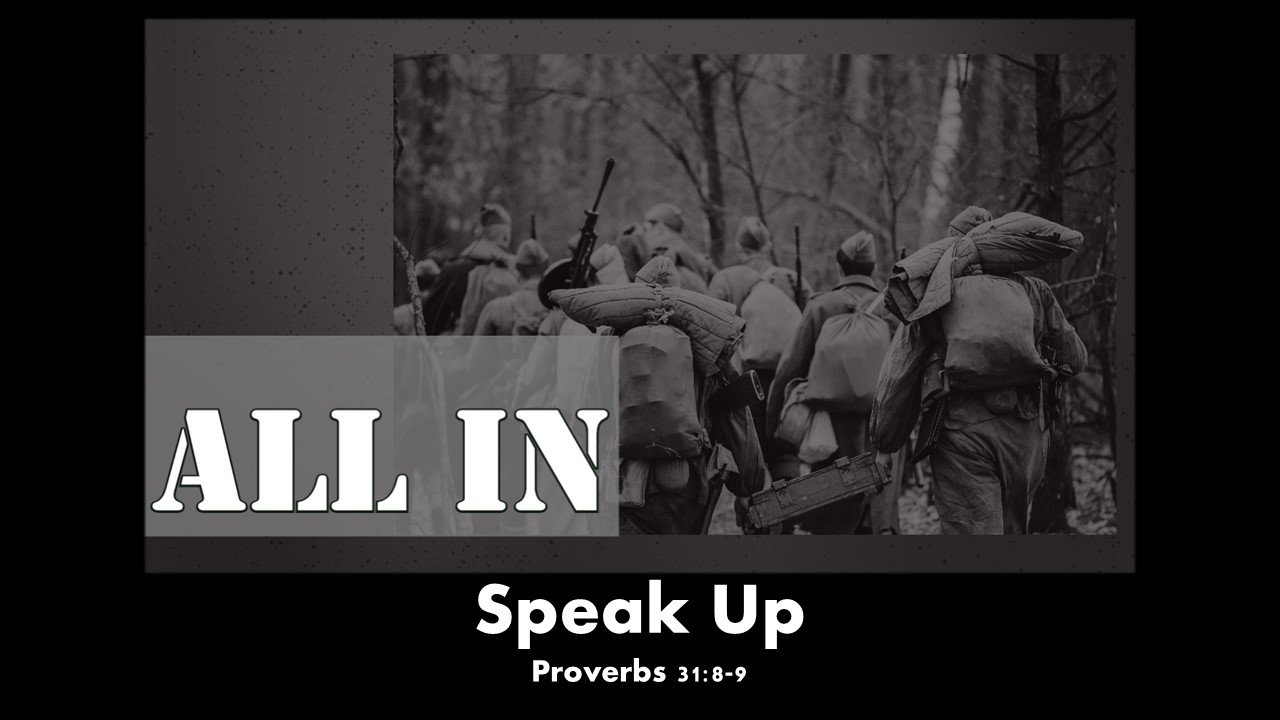 This morning, we continue our series entitled ALL IN, which will act as an introduction to our theme for the 2022 year: COMMITMENT. Our text is Proverbs 31:8-9. From this passage, we see our responsibility as God's people to speak up for those who cannot speak for themselves.
Proverbs 31:8-9 (NIV)
Speak up for those who cannot speak for themselves, for the rights of all who are destitute. Speak up and judge fairly; defend the rights of the poor and needy.
WHY WE SPEAK UP
Every human being (born or unborn) possesses dignity and purpose and intrinsic worth.
1.) God CREATED us.
Genesis 1:26-27 (NIV)
Then God said, "Let us make mankind in our image, in our likeness, so that they may rule over the fish in the sea and the birds in the sky, over the livestock and all the wild animals, and over all the creatures that move along the ground." So God created mankind in his own image, in the image of God he created them; male and female he created them.
2.) God REDEEMED us.
Romans 3:24 (NIV)
And all are justified freely by his grace through the redemption that came by Christ Jesus.
3.) God EMPOWERS us.
Ephesians 3:20-21 (NIV)
Now to him who is able to do immeasurably more than all we ask or imagine, according to his power that is at work within us, to him be glory in the church and in Christ Jesus throughout all generations, for ever and ever! Amen.
HOW WE SPEAK UP
1.) SPEAK THE TRUTH
John 1:17 (NIV)
For the law was given through Moses; grace and truth came through Jesus Christ.
2.) SPEAK WITH GOD
James 5:16 (NIV)
Therefore confess your sins to each other and pray for each other so that you may be healed. The prayer of a righteous person is powerful and effective.
3.) ACTIONS SPEAK LOUDER THAN WORDS
Micah 6:8 (NIV)
He has shown you, O mortal, what is good. And what does the LORD require of you? To act justly and to love mercy and to walk humbly with your God.